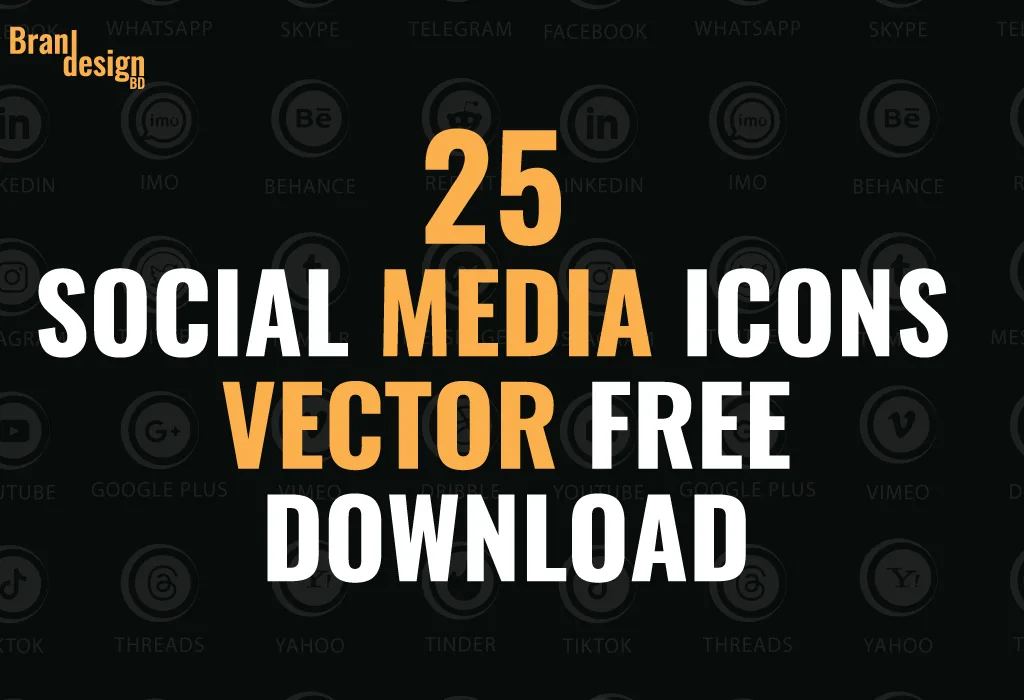 Social media icons in vector format have become an impactful part of modern design, playing a crucial role in adding to brand visibility and smoothing social media interactions. These icons represent various social media platforms, allowing users to identify and connect with brands on their preferred networks quickly.
These icons are in various styles, making an excellent choice for a wide range of projects. Whether you're designing an app, a website, or a social media campaign, these icons will surely add a fun and engaging element to your project.
Free social icons vector set download link –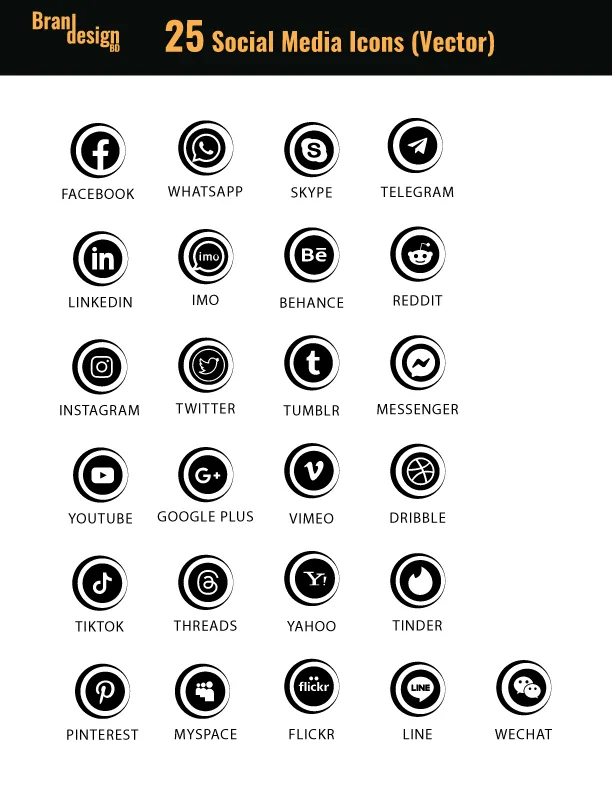 These icons include:
Reddit, WeChat, Messenger, dribble, myspace, telegram, line, Tinder, flicker, yahoo, tumble, Behance, google plus, LinkedIn, skype, threads, Twitter, IMO, WhatsApp, Pinterest, Tiktok, youtube, Instagram, Facebook
Here's why social media icons in vector format are an essential component of your digital presence:
1. Consistent and Professional Branding: These icon formats ensure a consistent look and feel for your brand across various platforms and devices. By customizing the icons to match your brand's colors, typography, and style, you create a unified and polished image. This helps people recognize and trust your brand more easily.
2. Seamless Integration and Utility: Vector social icons are highly adaptable and can be seamlessly incorporated into different digital and print materials. They can be used on websites, blogs, email newsletters, digital advertisements, business cards, and other marketing materials. Vector icons can be resized without losing quality, allowing you to adjust them to suit different design needs.
3. Instant Recognition and User-Friendly Experience: Well-designed social icons instantly grab attention and are easily identifiable. Users can quickly spot and connect with your brand on their preferred networks by using vector icons that accurately represent each social media platform. This smooth user experience encourages people to engage with your brand's social media profiles, fostering interaction and connection.
These icons will be applied to various marketing materials including:
Websites: Incorporate social icons on your website's header, footer, or sidebar to provide easy access to your brand's social media profiles. They can be placed as clickable links that direct visitors to your social media pages.
Blogs: Add social icons to your blog posts to encourage readers to share your content on their preferred social networks. These icons can also be used as links to your brand's social media accounts, allowing readers to follow you for more updates.
Email Newsletters: Include these icons in your email newsletters, allowing subscribers to connect with your brand on social platforms. These icons can link to your social media profiles, encouraging recipients to engage with your content and share it with their network.
Social Banner and Digital Advertisements: Utilize these icons in digital advertisements to drive traffic to your social media profiles. Placing these icons strategically within your ads can increase visibility and encourage viewers to follow your brand for more updates.
Business Cards, Letterhead, and Print Collateral: Incorporate social icons on your business cards, brochures, flyers, and other print materials. This allows people to easily find and connect with your brand on social media platforms.
Presentations: Enhance your presentations by including social icons on slides. This can be useful when discussing social media strategies, promoting social media campaigns, or highlighting your brand's online presence.
Also, check the recent article about LinkedIn Cover Mockup Vector here.
If you want to make any customized icons then contact us now.
---